Continued from Page 2
Next step was to reassemble the front wheel and brakes. The new brake shoes I received were of the correct size, but the circular groove at one end of both shoes was too narrow, and not centered. I guess it was late on a Friday afternoon, and the worker was fed up with his job. I used a tiny grinding wheel on a Dremel tool to make it fit correctly.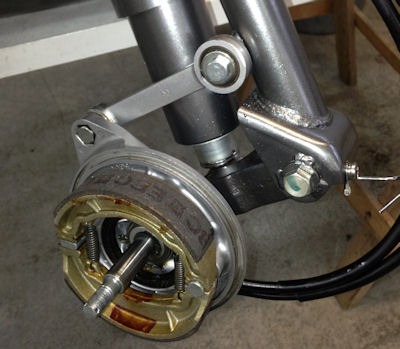 I'm having so much fun doing this! I find great satisfaction everytime I put something back together when it's nice and clean like this!
With a clean frame and a clean powertrain, the next step was obvious...
Now it can be called a bike again.
Now I can look at installing the O² sensor, and it looks like it will not be a problem. I think there is enough space between the frame and the engine for welding the threadolet on the exhaust manifold. Ecotrons recommends about 4-5 inches from the head, in a way that no gasoline can pool in the O² sensor head.
Continued on Page 4